Dedolight Ledzilla-Bi


Dedolight Ledzilla-Bi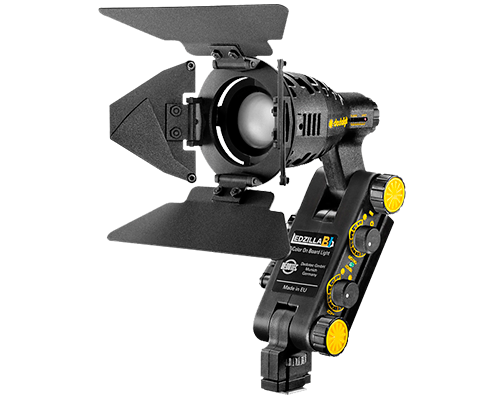 Характеристики
Power Consumption: 8 W

Power Source: Any 6 V to 18 V DC power source

Temperature Operating: -40 to 104°F / -40 to 40°C

Dimensions: Not specified by manufacturer

Weight: Not specified by manufacturer

Package Weight: 1.7 lb

Box Dimensions (LxWxH): 8.347 x 8.268 x 6.693"
Описание оборудования
The Dedolight DLOBML2-BI-SH Ledzilla Mini LED Daylight On-Camera Light packs a lot of punch into a small package. It is a bi-color small on-board camera light that features Dedolight double aspheric optics for an smooth/consistent beam spread. The bi-color designation means that you can vary the color temperature of the light from 3200 to 5600K so you don't need to use gel or dichroic filters to change the lights color temperature. It is worth nothing that the lights brightness does not change as you vary the color temp from 3200 to 5600K and back again, which happens with many other bi-color lights. The light also features built-in barndoors for a sharp shadow or a gentle light-shadow transition.